Today we'll introduce you to John Gerber with HomeSmiles, a company that can help
prepare your home for the upcoming spring and summer seasons.

Want to Buy a Home? Search All Homes
John Gerber, a representative of HomeSmiles, is here to walk us through some of the annual home maintenance services they offer that ensure homes are both safer and functioning optimally. For a comprehensive list of services provided, visit their website.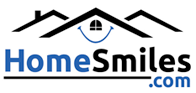 As part of their basic package, HomeSmiles cleans home gutters at all times of the year, whether it's January, July or November.
They also offer downspout cleaning services, as well as exterior window washing using their de-ionized window-washing system that cleans your windows from the mullions to the trim, leaving your windows streak- and spot-free.
Dryer vent cleaning is an annual home maintenance item that you can't afford to ignore. Each year, numerous fires are started in homes where dryer vents are not cleaned, and are full of lint and build up.


"
HomeSmiles will tackle 18 home maintenance
items that should be completed on all homes annually.

"


They service garage doors, lubricating the wheels and tracks and checking the batteries on remote-opening devices to make sure they operate properly, as well as performing safety tests to make sure they are operating safely.
California state law dictates that certain features in your home must be in place when you transfer to a new owner, and HomeSmiles is happy to ensure that you're toeing the legal line as far as home these safety measures go. Such features include:
Smoke and carbon monoxide detectors. They will determine if your units are in an appropriate location per state law and that they're current and functioning.

Water heaters. They can verify that your water heater strapping is correct, or bring it up to code if necessary.
Several clients, as well as myself, have worked with HomeSmiles in the past, and we've all absolutely loved the service they offer. As a homeowner, it's important to stay on top of annual maintenance items, and HomeSmiles offers an easy way to get it all done at a great value. We recommend that you reach out to HomeSmiles by calling John at (650) 260-2018, emailing him at JGerber@HomeSmiles.com, or visit their website.
If you have any other questions about real estate, don't hesitate to reach out to the Palermo Properties Team. We'd love to speak with you.